Refrigerated Container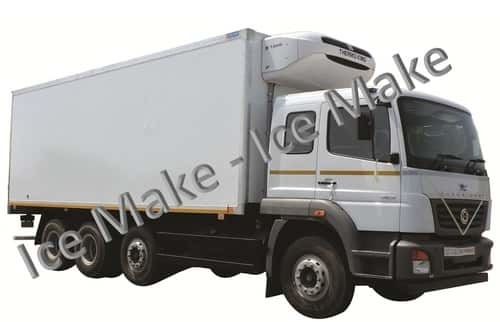 Refrigerated Container
Price And Quantity
515000.00 - 1950000.00 INR
Product Description
Transportation with temperature (+12oC to -25oC) for all perishable foods on all type of vehicle as (small, mini truck & Heavy loading truck)
Technical Specification
Type of Construction

- Heavy structure with Pre Fabricated Sandwich Panels with Cam Lock on all sides.
- All panels fit together by Cam Lock, so container becomes air tight fit.

Panel Thickness

Insulated wall thickness 80mm (Small Vehicle), 100mm (Mini Truck) & 125mm (Heavy Loading Truck)

Panel Surface Material

- Outside Pre coated GI sheet Skin Thickness 0.8 mm or S.S. grade 304, Thickness 0.5mm
- Inside Pre coated GI sheet Skin Thickness 0.8mm or S.S. grade 304, Thickness 0.5mm.

Type of Floor

We are providing outside Pre coated GI sheet, Thickness 0.8mm & Inside 9mm or 19mm Marine Ply with FRP layer for water proof & top material as per below details
Option- Aluminum 'T' profile for easy moving & air rotation.
Option- Aluminum Checkered Plate.
Option- S.S 202 rectangle pipe structure for better easy moving & air rotation.
Option- Aluminium Corrugated Profile
Door: Single loft door for small vehicle & double loft door for mini and heavy loading truck
Door & Windows
Door & Hatch Door Single & Double loft (fully open) insulated doors, hatch door (Window) & side door fitted with double gasket with heavy door locking mechanisms for special transport segment. Drop handles gear, Rear door hinges, and Rear door hinges bracket, Seals Rubber Gasket.
Door curtain
As per customer requirement we provide you PVC Door curtain. As per your door size.
Base Frame :
Between container & body chassis, it is design on M.S. profile with laser cut for aesthetic Look & M.S. Pipe, frame will be complete with U Bolts & Fasteners.
Ladder for UP and Down on container
Useful for up down on container and easy services for refrigeration unit for large truck.

Totally strong and welding with container.
Paint: Weather resistance paint with Primer Coat - Zinc Rich Epoxy primer, Intermedicate - epoxy polyamide primer, Top Coat - Bituminous paint.
REFRIGERATED & EUTECTIC MOBILE CONTAINER WITH GRP PANEL
GRP stands for "glass-fibre reinforced plastic", a high grade composite material, consisting of polyester resin reinforced with glass fibre matting.
GRP is highly suitable for refrigerated containers with higher stability, low weight and for exceptional resistance to corrosion
Feature
GRP Container are extremely robust due to their permanet stability and absolute resistance to corrosion

Long-term weather resistance enables many years of outdoor use

Low weight is particularly advantageous for refrigeration transportation with low payload and low operation cost.

Smooth interior and exterior surfaces make GRP Container easy to clean

GRP panels are UV resistant

GRP panels is resistance to chemical and fire.